Large firms in the audio industry have devices with bold lines.
A good design combined with the best sound quality. This is the recipe that audio companies are starting to do to get closer to users looking for stylish speakers that in turn function as decorative elements.
Devialet:
Phantom-gold Last week, the French company Devialet introduced in Spain the new Phantom Gold, a wireless speaker designed to reproduce the music of any mobile device, computer or television via WiFi, and to replace stereo systems, Home cinema and even other speakers. Devialet says that its new Phantom is the best sound equipment in the world thanks to its own proprietary technologies. But when looking at the equipment, besides enjoying an indisputable sound quality, it is impossible not to be surprised with its staging. The lateral spheres vibrate to the rhythm of the music, offering a stepped movement that catches the attention.
The company has three Phantom models on sale, but the newest, the Phantom Gold, boasts 4,500W of power and 108 dB of sound impact, eight times more than its smaller brothers. This model also has the most careful design, as it is available with a finish in a bath in 22 carat pink gold. Its price rises to 2,590 euros.
Bowers & Wilkins: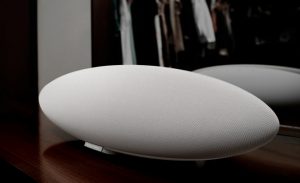 The Zeppelin Wireless style is also the hallmark of Bowers & Wilkins, a British company that celebrates its 50th year in the world of audio and is known internationally for the quality of its products and its curious forms. Specifically, designers like Morten Warren have been behind the design of some of the company's music equipment, which surprised in the nineties by its products in the form of musical instrument.
This year, one of its star teams is Zeppelin Wireless, which plays the sound of any connected device and is characterized by its zeppelin-shaped body that has decorated rooms of more than one film.